7-day cruise to Stockholm, Visby, Gdansk & Copenhagen with AIDA Cruises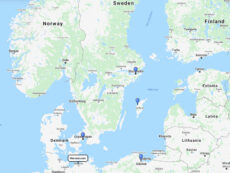 Cruising from: Warnemünde, Germany;
Departure Date: June 25, 2022;
Duration: 7-day cruise;
Cruise Line: AIDA Cruises;
Cruise Ship: AIDAdiva;
Ports of Call: Warnemünde, Stockholm, Visby, Gdansk, Copenhagen, Warnemünde;
Discover the best of Sweden, Poland & Denmark on this Scandinavia & Baltic cruise with AIDAdiva
Day 0

Day 1 – At Sea cruising
Each cruise line has their own unique way to pamper you and indulge your senses. There is always something to do onboard Aida cruise ship.
Day 2

Day 3

Day 4
Visby, Sweden
Visby is a town on the Swedish island of Gotland in the Baltic Sea.
Day 5

Day 6

Day 7

---
Join AIDA Cruises on this Scandinavia & Baltic cruise from Warnemünde, Germany on board AIDAdiva. Visit Stockholm, Visby, Gdansk and Copenhagen from Warnemünde. AIDAdiva leaving Warnemünde, Germany for 7 nights from June 25, 2022.