7-day cruise to Visby, Copenhagen & Warnemunde with Costa Cruises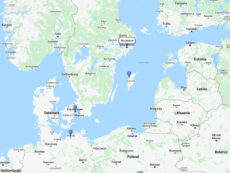 Cruising from: Stockholm, Sweden;
Departure Date: July 30, 2022;
Cruise Line: Costa Cruises;
Cruise Ship: Costa Favolosa;
Duration: 7-day cruise;
Ports of Call: Stockholm, Visby, Copenhagen, Warnemunde, Stockholm;
Discover the best of Baltic with Costa Favolosa
Day 0

Day 1

Day 2

Day 3 – At Sea cruising
There are plenty of daily activities on board Costa Cruises to keep you busy. Costa Favolosa has everything a discerning cruiser could want, bars, sports venues and shops.
Day 4

Day 5

Day 6 – At Sea cruising
During your cruising day, enjoy watching the scenery drift by as you look forward to the next towns and cities.
Day 7

---
Join Costa Cruises on this Baltic Sea cruise from Stockholm, Sweden to Germany and Denmark on board Costa Favolosa. Visit Stockholm, Visby, Copenhagen and Warnemunde. Costa Favolosa leaving Stockholm, Sweden for 7 nights from July 30, 2022.