7-day cruise to Geirangerfjord, Maloy, Alesund and Kiel with MSC Cruises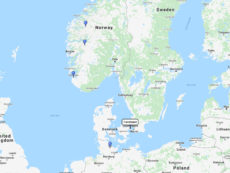 Cruising from: Copenhagen, Denmark;
Departure Date: September 17, 2023;
Cruise Line: MSC Cruises;
Cruise Ship: MSC Euribia;
Duration: 7-day cruise;
Ports of Call: Copenhagen, Hellesylt/Geiranger, Maloy, Alesund, Kiel, Copenhagen;
Discover the best of Norway, Denmark and Germany on this Norwegian Fjords cruise with MSC Euribia
Day 0
Copenhagen is famed for more than just its beautiful waterfront; the city is also home to Stroget, a pedestrian promenade that stretches from Town Hall Square to Kongens Nytorv and is known the world over. An variety of restaurants, cafes,[…]
Day 1 – At Sea cruising
Experience the relaxed ambience onboard MSC Euribia attentive service from a friendly staff that knows what hospitality means, you'll find your MSC Euribia ship truly is your home away from home.
Day 2
One of the most popular ways to see Norway is from the water, and the Geirangerfjord is a popular destination for cruise ships. Cruising the area known as the "jewel of the Norwegian fjords" will not leave you bored. Geirangerfjord[…]
Day 2
Geiranger, which is located in the Geirangerfjorden and is the third largest cruise ship port in the country. Geiranger has one of the most beautiful settings in all of western Norway. It is home to some of the most breathtaking[…]
Day 2
The historic Viking village of Hellesylt is located at the head of the Sunnylvsfjorden, a branch of the Storfjorden, from which the more famous Geirangerfjord branches nearby. Hellesylt is a little community of just over 500 people known for its[…]
Day 3
Måløy, perched on Norway's rugged northwestern coastline, stands as a beacon of maritime culture and tradition. Located on the island of Vågsøy, it is enveloped by the wild embrace of the North Sea on one side and the serene beauty[…]
Day 4
A trip to Alesund, the "Adventure Capital of the Fjords," will reveal why it was voted Norway's Most Beautiful City. Alesund, a city of 45,000 people located on three islands between two azure fjords, is a major port for the[…]
Day 5 – At Sea cruising
There are plenty of daily activities on board MSC Euribia to keep you busy. MSC Euribia has everything a discerning cruiser could want, bars, sports venues and shops.malo
Day 6
Kiel has a rich history in the maritime industry, but these days the city is more known for its lively student population, casual atmosphere, and urban vibe. The city's picturesque location on the Kiel Fjord, its contemporary and roomy downtown,[…]
Day 7
Copenhagen is famed for more than just its beautiful waterfront; the city is also home to Stroget, a pedestrian promenade that stretches from Town Hall Square to Kongens Nytorv and is known the world over. An variety of restaurants, cafes,[…]
---
Sail away from Copenhagen and prepare to be dazzled by the riches of nature and culture as you travel through Norway and Norwegian Fjords on this wonderful voyage aboard MSC Euribia to Geirangerfjord (Hellesylt/Geiranger), Maloy, Alesund and Kiel. MSC Euribia leaving Copenhagen, Denmark for 7 nights from September 17, 2023.