7-day cruise to Bergen, Nordfjord, Alesund & Stavanger with AIDA Cruises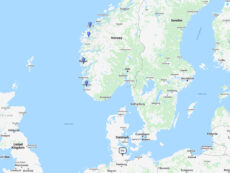 Cruising from: Kiel, Germany;
Departure Date: September 2, 2023;
Cruise Line: AIDA Cruises;
Cruise Ship: AIDAnova;
Duration: 7-day cruise;
Ports of Call: Kiel, Bergen, Nordfjord, Alesund, Stavanger, Kiel;
Discover the best of Norwegian fjords on this cruise with AIDAnova
Day 0
Day 1 – At Sea cruising
Whether you like to indulge in food, sport, games or education, there are tons of cruise activities aboard every AIDA cruise ship.
Day 2

Day 3

Day 4

Day 5

Day 6 – At Sea cruising
Entertainment on AIDAnova will feature more to do onboard, with more time to do it.
Day 7

---
Sail away from Kiel and prepare to be dazzled by the riches of nature and culture as you travel through Norwegian fjords on this wonderful cruise aboard AIDAnova to Bergen, Nordfjord, Alesund and Stavanger. AIDAnova leaving Kiel, Germany for 7 nights from September 2, 2023.