Alta tourist attractions.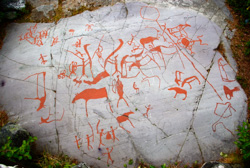 Alta is largest town in Norway's Finnmark offers winter adventures, northern lights, midnight sun, mountains, Sami culture, reindeer and World heritage rock carvings. Halfway between the grim, barren mountain plateau and the wet, stormy coast, Alta offers tree-clad valleys, pleasant temperatures and no more rain than parts of the Sahara desert. Alta offers marvelous scenic experiences all year round. Its well-developed public services and the countryside and landscape around Alta make it a good place to visit and live. This provides numerous opportunities for anyone interested in the outdoor life and activities such as hiking, biking and fishing.
The city of Northern Lights
In Norway, Alta is known as the 'City of the Northern Lights' because it is uniquely located directly under the northern lights oval and due to the good weather providing many clear nights, essential for aurora viewings. The world's first Northern Light observatory was built here at the end of the 19th century and has earned Alta the name The Town of the Northern Lights.
Alta tourist attractions
Prehistoric rock carvings
The biggest attraction in town is a collection of Unesco protected rock carvings, dating from around 4200 to 500 BC. Rock art is found in five separate areas in Alta, the largest being at Hjemmeluft/Jiepmaluokta, where Alta Museum is situated. This is the only area available to the public. In the summer season, groups are offered guided tours to the rock carvings.
Sorrisniva Igloo Hotel
Once you have first taken the trouble to travel all the way to northern Norway, you might just as well go the whole way: put on your thermals and your woolly hat, climb into a sleeping bag and sleep like an angel in a room constructed of snow. Because Sorrisniva has a 2,500m2 igloo hotel, located just outside the Northern Lights city of Alta, where you will be ideally positioned for seeing the Northern Lights.