Geiranger  tourist attractions.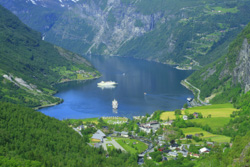 This third biggest cruise ship port in Norway, Geiranger is home to some of the most spectacular scenery in the world, and has been named the best travel destination in Scandinavia. Geiranger is a small tourist village in Sunnmøre region of Møre og Romsdal county in the western part of Norway. It lies in Stranda Municipality at the head of the Geirangerfjorden, which is a branch of the large Storfjorden. The nearest city is Ålesund. Since 2005, the Geirangerfjord area has been listed as a UNESCO World Heritage Site.
Along the sides of the fjord, there a number of abandoned farms. The farms that are most commonly visited are Skageflå, Knivsflå and Blomberg. Skageflå can also be reached on foot from Geiranger, while the others can only be seen from the fjord.
Geiranger boasts one of the most magnificent settings in western Norway and the village itself negotiates the steepest of hillsides, its scattering of houses built on a series of narrow shelves. This World Heritage site is a popular stop-over for cruise ships. The tourist season stretches from May to early September. Tours of the nearby historic farms of Knivsflå and Skageflå are available from Geiranger. Don't miss the awe-inspiring fjord and waterfalls, especially the Seven Sisters waterfall is located just west of Geiranger or the Suitor and the Bridal Veil.
The Seven Sisters waterfall tourist attractions. One of most notable waterfalls in the Geirangerfjord is the Seven Sisters waterfall. A total of seven waterfalls thunder straight down the Mountain and into the fjord. The Seven Sisters is the 39th tallest[…]
Knivsflå waterfall
The Knivsfla waterfall looked similar to the Seven Sister's waterfall, only this one tumbles over a ledge. It is located very close to the Seven Sisters waterfalls.