Haugesund tourist attractions.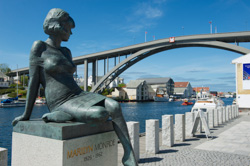 Although the region of Haugalandet has a rich Viking heritage, Haugesund is a vibrant young city touting culture and arts festivals. Among them is the Norwegian International Film Festival in August, which is one of the most important film festivals in Scandinavia. Jazz lovers might want to check out the Sildajazz festival, also during August, with a mix of local and international artists.
While it is possible to explore the city on foot, it may be beneficial to hire a car to see the surrounding area. Car hire is offered by Hertz, Avis and Europcar at the Airport and at various locations within the city itself. It can be expensive to rent the car. Petrol is also expensive and road tolls must be paid on many roads.
The Folgefonna Glacier to the north and the Preikestolen Mountains to the south – creates an enchanting backdrop for seemingly endless possibilities for outdoor exploration. Discover the Langfoss Waterfall, that rushes down a steep mountainside and into the fjord below. Enjoy a scenic hike or bike ride on one of the many trails crisscrossing the landscape or visit the tranquil beaches of Karmøy for breathtaking views.