Hidra tourist attractions.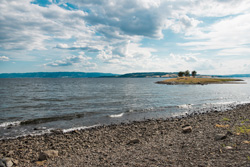 Hidra is a former municipality in Vest-Agder county, Norway. It is located in the present-day municipality of Flekkefjord. Hidra island has about 500 residents, mostly living on the west side in Kirkehavn, where Hidra Church is located. The village of Rasvåg is another main village on the south side of the island. Go for a morning hike on Hidra or travel overland for a village tour of Flekkefjord, There's also kayaking or zodiac opportunities in the harbor of Kirkehamn. This afternoon over coffee, one of the locals on Hidra shares his thoughts on Norwegian island living.
In 1972 the Hidra Ferry connection was established and asphalt roads were built on the island to enable locals and visitors to get to the island where there were shops, schools and three chapels. This ferry leaves daily all year round and the road are always cleared of snow so that the locals can get to Flekkefjord for work.