Maurangerfjord & Furebergfossen Waterfall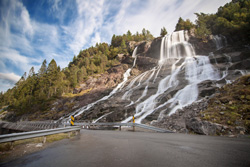 Maurangerfjord or Maurangsfjorden is a fjord in Kvinnherad Municipality in Hordaland county, Norway. The 12 km (7.5 mi) long fjord is a small branch off of the main Hardangerfjorden. The inner end of the Maurangsfjorden branches into the Nordrepollen and Austrepollen. There are several villages located along the fjord: Ænes, Sundal, Austrepollen, Nordrepollen, and Gjetingsdalen. The Mauranger Hydroelectric Power Station is located in the village of Austrepollen.
Cruising along the Maurangerfjord, you will past the pretty Furebergfossen Waterfall for wonderful views and great photo opportunities.
The Hardangerfjord or Hardangerfjorden is the fourth longest fjord in the world, and the second longest fjord in Norway. It is located in Hordaland county in the Hardanger region. The fjord stretches 179 km (111 mi) from the Atlantic Ocean into the mountainous interior of Norway along the Hardangervidda plateau. A small branch of the Hardangerfjord is Maurangerfjord.
Furebergfossen Waterfall Furebergfossen Waterfall are the largest and finest waterfall in the area between Ænes and Sundal. Ænes is a village in Kvinnherad municipality in Hordaland county, Norway. The village is located on the southeastern shore of the Hardangerfjorden at the[…]