Flåmsbana – the Flåm Railway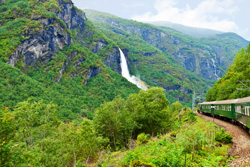 One of the highlights of the Norwegian fjords is the spectacular Flåmsbana railway. Experience the Flåm Railway – an incredible train journey from the mountain station at Myrdal on the Bergen Railway and all the way down to Flåm station on the Aurland Fjord. The Flåm Railway is the steepest adhesion railway on standard gauge tracks in the world, with a variation in altitude of 865 meters. On the outward journey, the train stops at the Kjosfossen waterfall, in front of which appears the singing and dancing Huldra (a seductive forest creature in folklore – in reality played by Norwegian students). Exit the train at the penultimate station – Vatnahalsen – and have coffee and waffles at the eponymous hotel (open all year round) before setting off back down the valley on a cycle/hiking path. This passes through Kardalfarm where further refreshments can be procured and a herd of accommodating mountain goats enjoy their few moments of photographic fame. Continue down to Berekvam station, where the train is picked up, and return to Flåm.
The Flåm Railway may be one of the most scenic and beautiful train rides in the world. It is one of the steepest trainlines in the world on normal tracks, where almost 80% of the journey has a gradient of 5.5%. The train journey runs through fantastic nature, past the Rallar road, steep mountains, breathtaking waterfalls, through 20 tunnels and offers so many viewpoints that many feel like travelling multiple times between the mountain and the fjord. In the span of a single hour, the train takes you from the ocean level at the Sognefjord in Flam, to the mountaintop at Myrdal mountain station on Hardangervidda, 867 meters over the ocean.