The waterfall.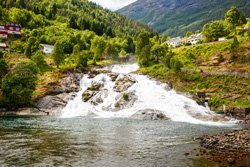 Walk out on the bridge over the Hellesylt waterfall running through the centre of town. The white water is especially ferocious in early summer when melted snow flows down from the mountain range.
The waterfall is one of the most gorgeous sites in Hellesylt and most photographed motifs in the area. The falls divide Hellesylt in two, providing the little settlement with a special atmosphere. Hellesylt is under constant threat from the mountain Åkerneset, which is about to erode into the Sunnylvsfjord. A collapse could cause a tsunami destroying most of downtown Hellesylt.
Travel to this location will give you some astonishing views since you can observe the cascading water from above. In addition to the waterfall, you should visit the church for a mountain vista and a look at the interesting fjords. Beautifully restored old farmhouses are scattered around the hills and mountains, many with quite daring and challenging locations. A natural haven for anyone that loves to observe the beauty and wonder of nature, Hellesylt is an often-overlooked area of Norway because it is less metropolitan and more scenic.