Bergen's Seven Mountains.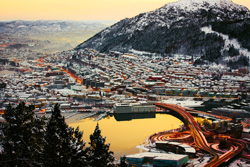 Nature is a pretty big deal in these parts, with the city of Bergen being surrounded by the legendary Seven Mountains. The mountains surrounding Bergen offers great hiking possibilities for walks in the varied mountainous and forested terrain. The mountains offer outstanding views of the city and its stunning setting, as well as an extensive network of hiking trails for various levels of physical fitness. There are options for anyone from those just looking for a fifteen-minute stroll in the sun to the more adventurous interested in daytrips and steep hills.  There are actually a lot more than seven mountains around Bergen, but the peaks most commonly included among the official seven are:
Ulriken, 643 meters (2,109 feet)
Fløyen (also called Fløyfjellet), 400 meters (1,312 feet)
Løvstakken, 477 meters (1,565 feet)
Damsgårdsfjellet, 350 meters (1,148 feet)
Sandviksfjellet, 417 meters (1,368 feet)
Lyderhorn, 396 meters (1,299 feet)
Rundemanen, 560 meters (1,837 feet)
Seven Mountains Hike Bergen
The seven mountain walk is 30 kilometers long and a total elevation of 2200 meters. Starts at 'Gravdal' at Laksevaag, going via Lyderhorn, Damsgaardsfjellet, Lovstakken, Ulriken, Floyen, Rundemannen to Sandviksfjellet.
Four Mountains Hike Bergen
The four mountain walk is 15 kilometers long and has a total elevation of 1.200 meters. Starts at 'Aarstad Videregaaende Skole' at Danmarksplass, going via Ulriken, Floyen, Rundemannen to Sandviksfjellet.
Alternatively, if you don't fancy the hike up to the summit you could take the cable car from downtown. The most popular mountains are Mount Fløyen which is accessible with Fløibanen Funicular right from the city center, but the better fit will probably choose the 40-minutes walk up. Once at the peak, it's an easy walk to some of the other mountains, including Mount Rundemanen and Mount Ulriken, with spectacular views of the fjords and coast as you go. The cable car at Ulriken can easily be reached with a sightseeing bus during the summer and regular bus service during winter.