The Seven Sisters waterfall tourist attractions.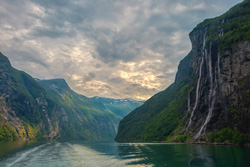 One of most notable waterfalls in the Geirangerfjord is the Seven Sisters waterfall. A total of seven waterfalls thunder straight down the Mountain and into the fjord. The Seven Sisters is the 39th tallest waterfall in Norway. The waterfall consists of seven separate streams, and the tallest of the seven has an average free fall of about 250 metres (820 ft).
The waterfall is located just south of the historic Knivsflå farm, across the fjord from the old Skageflå farm. The falls are about 6.5 kilometres (4.0 mi) west of the village of Geiranger. It is part of the Geiranger World Heritage Site.
The water level is dependent on the snow thaw and precipitation and may affect whether it is possible to see all seven falls equally clearly. The Seven Sisters waterfall are naturally more visible during the major snow melting period in May-July and can be best observed by taking a boat trip on Geirangerfjord.
Apart from the sheer beauty of the mountains and the waterfalls, the Seven Sisters tell a tale of trolls and how they were turned to stone. The story starts with Vågekallen, who lived in Lofoten and who was spurned by women in the south. One female by the name of Lekamøya even called him simpleton. One evening when Lekamøya had gone to Tjøtta to make unleavened bread, seven beautiful unmarried sisters escaped from their father, the King of Sulitjelma. When Vågekallen saw the seven sisters dancing naked in the fjord, the temptation proved too great for him. He mounted his horse and rode south in pursuit of the seven sisters.