7-day cruise to Kristiansand, Bergen, Vik and Eidfjord on board AIDA Cruises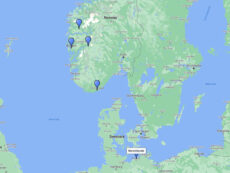 Cruising from: Warnemünde, Germany;
Departure Date: October 5, 2024;
Duration: 7-day cruise;
Cruise Line: AIDA Cruises;
Cruise Ship: AIDAdiva;
Ports of Call: Warnemünde, Kristiansand, Bergen, Vik, Eidfjord, Warnemünde;
Discover the best of Norway and Denmark on this Norwegian Fjords cruise with AIDAdiva
Day 0
Warnemunde is known as a majestic port for cruise ships, delicious Baltic Sea seafood, and a beautiful beach, all of which make for an unforgettable trip. With its tower stretching 37 meters into the air, the Warnemunde Lighthouse offers summertime[…]
Day 1 – At Sea cruising
Each cruise line has their own unique way to pamper you and indulge your senses. There is always something to do onboard Aida cruise ship.
Day 2
Kristiansand is one of the largest cruise ship ports in Norway, and the port sees a significant number of cruise ship arrivals throughout the summer months. The city center, the boardwalk, the bus terminal, the ferry terminal, and the train[…]
Day 3
Bergen is located between the longest fjord in Norway, the Sognefjord, and the lovely Hardangerfjord in the south. It is the best place in Norway to gain access to the fjords, making it one of the country's top tourist destinations.[…]
Day 4
The town of Vik is on the southern coast of the Sognefjord, which is one of the longest fjords in the world. It is a municipality in Vestland County, Norway, consisting of many rural communities, including Vik, Vangsnes, Arnafjord, Feios,[…]
Day 5
Eidfjord is a municipality in the county of Hordaland, located at the end of Norway's second-longest fjord, the Hardangerfjord. Eidfjord is located in the heart of a region along the RV 7 route, which connects Oslo and Bergen and passes[…]
Day 6 – At Sea cruising
Cruising aboard AIDAdiva elevates fun at sea to an art form. AIDAdiva demonstrates a true mastery of the craft with an onboard collage of fun entertainment for you to enjoy.
Day 7
Warnemunde is known as a majestic port for cruise ships, delicious Baltic Sea seafood, and a beautiful beach, all of which make for an unforgettable trip. With its tower stretching 37 meters into the air, the Warnemunde Lighthouse offers summertime[…]
---
Join AIDA Cruises on this Norwegian Fjords cruise from Warnemünde, Germany to Norway on board AIDAdiva. Visit Kristiansand, Bergen, Vik and Eidfjord from Warnemünde. AIDAdiva leaving Warnemünde, Germany for 7 nights from October 5, 2024.