7-day cruise to Haugesund, Alesund, Nordfjord and Stavanger with AIDA Cruises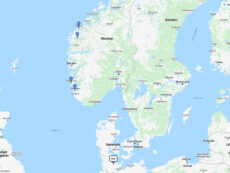 Cruising from: Kiel, Germany;
Departure Date: July 20, 2024;
Cruise Line: AIDA Cruises;
Cruise Ship: AIDAnova;
Duration: 7-day cruise;
Ports of Call: Kiel, Haugesund, Alesund, Nordfjord, Stavanger, Kiel;
Discover the best of Norwegian fjords on this cruise with AIDAnova
Day 0
Kiel has a rich history in the maritime industry, but these days the city is more known for its lively student population, casual atmosphere, and urban vibe. The city's picturesque location on the Kiel Fjord, its contemporary and roomy downtown,[…]
Day 1 – At Sea cruising
Whether you like to indulge in food, sport, games or education, there are tons of cruise activities aboard every AIDA cruise ship.
Day 2
The Norwegian city of Haugesund is snugly between the bigger metropolitan areas of Stavanger and Bergen, in the southwest of the country's magnificent fjord coastline. Haugesund is the ideal short-stay destination due to its café culture, museums, galleries, and picturesque[…]
Day 3
A trip to Alesund, the "Adventure Capital of the Fjords," will reveal why it was voted Norway's Most Beautiful City. Alesund, a city of 45,000 people located on three islands between two azure fjords, is a major port for the[…]
Day 4
The Nordfjord is a well-known part of Norway's western coast that provides excellent opportunities for outdoor recreation throughout the year. Near the Geirangerfjord and the Sognefjord, in the northern portion of Sogn og Fjordane County, is where you'll find the[…]
Day 5
When visiting the Norwegian fjords, be sure to stop in Stavanger. Stavanger's city center is small and walkable, featuring historic dockside warehouses and picturesque 18th-century streets that rise from a lively harbor. With more than 170 white wooden homes, Old[…]
Day 6 – At Sea cruising
Entertainment on AIDAnova will feature more to do onboard, with more time to do it.
Day 7
Kiel has a rich history in the maritime industry, but these days the city is more known for its lively student population, casual atmosphere, and urban vibe. The city's picturesque location on the Kiel Fjord, its contemporary and roomy downtown,[…]
---
Sail away from Kiel and prepare to be dazzled by the riches of nature and culture as you travel through Norwegian fjords on this wonderful cruise aboard AIDAnova to Haugesund, Alesund, Nordfjord and Stavanger. AIDAnova leaving Kiel, Germany for 7 nights from July 20, 2024.