2-day cruise to Hamburg, Germany with Cunard Cruise Line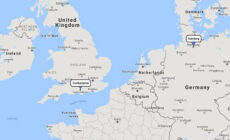 Cruising from: Southampton, UK;
Departure Date: October 13, 2024;
Cruise Line: Cunard Cruise Line;
Cruise Ship: Queen Mery 2;
Duration: 2-day cruise;
Ports of Call: Southampton, Hamburg;
See Hamburg's most famous landmarks with Queen Mery 2
Day 0
There are four cruise ship terminals in Southampton, all of which are made for cruise ships. Visitors are able to stay in the city before or after embarking on their cruise by taking advantage of the cruise packages provided by[…]
Day 1 – At Sea cruising
There are plenty of daily activities on board Queen Mery 2 to keep you busy. Queen Mery 2 has everything a discerning cruiser could want, bars, sports venues and shops.
Day 2
Hamburg, the second-largest city in Germany, is on both sides of the Elbe River and is fondly referred to as the "Gateway to the World" due to its historic maritime past and status as one of Europe's most important ports.[…]
---
Sail away from Southampton to Hamburg, Germany one of the best city break destinations on board Cunard Cruise Line, ship Queen Mery 2. Queen Mery 2 leaving Southampton, UK for 2 nights from October 13, 2024.