7-day cruise to Hamburg, Rotterdam, Bruges and Le Havre with MSC Cruises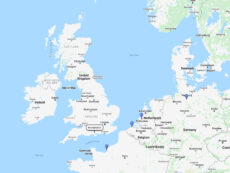 Cruising from: Southampton, UK;
Departure Date: October 18, 2024;
Duration: 7-day cruise;
Cruise Line: MSC Cruises;
Cruise Ship: MSC Euribia;
Ports of Call: Southampton, Hamburg, Rotterdam, Zeebrugge (Bruges), Le Havre, Southampton;
Discover the best of France, Belgium, Netherlands & Germany with MSC Euribia
Day 0
There are four cruise ship terminals in Southampton, all of which are made for cruise ships. Visitors are able to stay in the city before or after embarking on their cruise by taking advantage of the cruise packages provided by[…]
Day 1 – At Sea cruising
Cruising aboard MSC Euribia fun at sea to an art form. MSC Euribia demonstrates a true mastery of the craft with an onboard collage of fun entertainment for you to enjoy.
Day 2
Hamburg, the second-largest city in Germany, is on both sides of the Elbe River and is fondly referred to as the "Gateway to the World" due to its historic maritime past and status as one of Europe's most important ports.[…]
Day 3 – At Sea cruising
There are plenty of daily activities on board MSC Euribia to keep you busy. MSC Euribia has everything a discerning cruiser could want, bars, sports venues and shops.
Day 4
Rotterdam is renowned as a cultural hub with a rich maritime history and a vibrant student community thanks to Erasmus University. It was virtually entirely rebuilt after World War II, and as a result, the city is now famous for[…]
Day 5
Located in the Flanders region of northern Belgium, Bruges is the closest thing you're likely to find in the real world to a fairytale city. Famous for its old cobbled streets, charming market squares, peaceful canals and Gothic towers, it's[…]
Day 6
Considering it was bombarded 146 times during WW2, you might think there'd be little left to see in Le Havre – France's second-largest port (after Marseille). The rebuilt city, with its uncompromising recourse to reinforced concrete and open spaces, is admittedly short[…]
Day 7
There are four cruise ship terminals in Southampton, all of which are made for cruise ships. Visitors are able to stay in the city before or after embarking on their cruise by taking advantage of the cruise packages provided by[…]
---
Join MSC Cruises on this roundtrip Northern Europe cruise to fairytale Bruges, lively Rotterdam, Hamburg, Germany's Gateway to the World and bustling Le Havre Port from Southampton on board MSC Euribia. MSC Euribia leaving Southampton, UK for 7 nights from October 18, 2024.