Akureyri tourist attractions.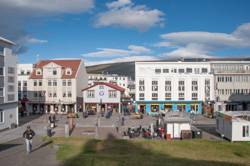 Akureyri is a lively and energetic town and important port and fishing centre is nicknamed the Capital of North Iceland. The area where Akureyri is located was settled in the 9th century but did not receive a municipal charter until 1786. The town was the site of Allied units during World War II. Further growth occurred after the war as the Icelandic population increasingly moved to urban areas.
Akureyri is great base for exploring the north's green pastures, fishing villages, mudpots, waterfalls, ski fields and whale-filled bays. Selection of activities and tours are offered with everything from tours to local villages and national parks, northern light tours, visit to the small island in the fjord and to tours with emphasis on local food.
The Northern Lights
Also called Aurora Borealis – are one of the most spectacular shows on earth and can frequently be seen in Akureyri and surroundings from September through April on clear and crisp nights. The Northern Lights occur high above the surface of the earth where the atmosphere has become extremely thin, in an altitude of 100-250 km.