Isle of Lewis  tourist attractions.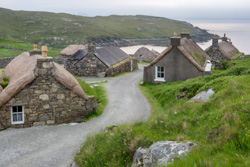 The largest island of the Outer Hebrides, Lewis is the northern part of Lewis and Harris, the largest island of the Western Isles or Outer Hebrides of Scotland. The total area of Lewis is 683 square miles. Along the wild, western coast of Scotland lies the Isle of Lewis, steeped in history and legend. Marvel at the massive neolithic Standing Stones of Callanish, which rival Stonehenge in the majesty of their setting. From the neat Victorian homes lining the streets of Stornoway in the east, to the stretching white sands of Bosta on Great Bernera in the east, where the clear Atlantic waters sound the evocative toll of the Time and Tide Bell as a reminder of the link between us and the elements, Lewis is an island of exciting contrasts and diverse experiences.
The island is blessed with a diverse range of habitats many of which are rich in wildlife. Although Lewis is the most densely populated of the Western Isles, much of the population is centred in and around Stornoway. This leaves large areas of the island sparsely populated, with most of the small rural communities hugging the coastline.