Mousa tourist attractions.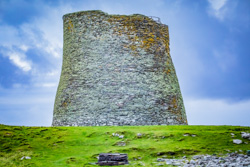 Mousa lies a mile off the east coast of Mainland Shetland in the parish of Dunrossness about 15 miles (24 km) south of Lerwick. Almost divided in two by inlets, East and West Hams, the island is 1.5 miles (2.4 km) long and almost 1-mile (1.6 km) in maximum width.
Mousa is only accessible by boat. A ferry operates April to September from Sandsayre, Leebitton and is run by Mousa Boat Trips. They offer trips during the day and unique, night-time trips to see the nocturnal storm petrels returning to their nest sites in the broch. The ferry across Mousa Sound takes about 15 minutes. Mousa Sound is one of the best places in Britain to see the Harbour Porpoise, known as the 'Neesick' in Shetland.
Hike to an Iron Age broch, or stone tower, looking for storm petrels along the way. The landscape is gentle: rolling but never very high, predominantly herb-rich maritime grassland, here and there criss-crossed by dry stone walls. The broch is exceptionally well preserved and one of just a handful of such ancient towers still standing in Scotland.