Gjesværstappan Islands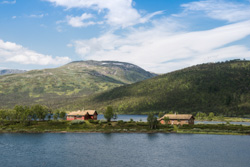 The island group of Gjesvaerstappan, just off the North Cape is high, steep-sided, grass-covered islands which are located north of the village of Gjesvær in Nordkapp Municipality in Finnmark county, Norway. The three main islands are Storstappen, Kjerkestappen, and Bukkstappen.
Storstappen
Storstappen is one of three main islands of the Gjesvaerstappen chain, located in the northernmost part of Norway. It was once inhabited, but now remains permanently uninhabited and is a designated nature reserve since 1983. The islands contain a large colony of seabirds and have been designated a nature reserve. The largest colonies of cliff-breeding seabirds are mainly located on the bird cliffs of the biggest island, Storstappen, and between June 15 and August 15 visitors are not allowed to set foot on this island.
To witness this overwhelming extravagance of nature is an awe-inspiring experience. Puffins, auks, razorbills and guillemots pack the crenelated ledges of the cliffs of 928-foot tall Storstappan, flying back and forth between their nests and the sea with rapid, buzz-bomb wing-beats.
Kjerkestappen
Kjerkestappen rises to an elevation of 166 metres (545 ft) above sea level. Historically, there were people that lived on the islands and there was a church on Kjerkestappen.
Bukkstappen
Bukkstappen rises to 92 metres (302 ft) above sea level