London cruise terminal in Tilbury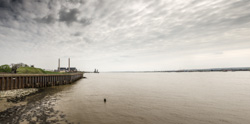 The London Cruise Terminal at Tilbury is located on the River Thames at Tilbury in Essex, England just 25 miles east of London. The London Cruise Terminal at Tilbury is London's only deep water purpose-built cruise facility, situated at the gateway to London, as well as being the main United Kingdom port for handling the importation of paper. Tilbury has become increasingly popular as a turnaround port for Baltic and Northern European destinations but it is also perfectly placed for transit calls to visit England's capital city, Kent and the south east. There are extensive facilities for containers, grain, and other bulk cargoes. There are also facilities for the importation of cars. It forms part of the wider Port of London.
The M25 is just 7 miles from the London Cruise Terminal offering easy access for coach excursions to Central London (25 miles) or to Kent. Approximate journey times in good traffic conditions from central London and London City Airport is one hour, from London Gatwick Airport and from London Stansted Airport is one hour fifteen minutes and from London Heathrow allow two hours.
Car Parking at London Tilbury Port
The Port of Tilbury offers secure car parking for passengers in the main port area, follow the 'Car Parking with Luggage Signs'. On arrival at the car park you luggage will be taken directly to security and onto the ship. All passengers will be required to take the short shuttle bus service to the Cruise Terminal (approx 5 minutes). Car parking must be pre-booked with your tour operator or travel agent. Please ensure that the Car Park Permit is clearly displayed in the windscreen of your vehicle before leaving your vehicle. The Car Parking permit will be included in your Final Cruise Documentation Pack.