Liverpool tourist attractions.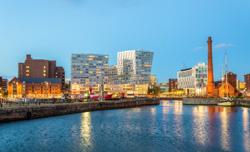 The Port of Liverpool is the enclosed 7.5 miles dock system that runs from Brunswick Dock in Liverpool to Seaforth Dock, Seaforth, on the east side of the River Mersey and the Birkenhead Docks between Birkenhead and Wallasey on the west side of the river. Cruise ships returned to Liverpool's Pier Head in 2008, berthing at a newly constructed cruise terminal, enabling departures and arrivals at any time. Until 2012, any cruises beginning in Liverpool still departed from Langton Dock but, since 2012, the terminal has been used as the start and end of voyages, and not merely a stop-off point.
The city celebrated its 800th anniversary in 2007, and it held the European Capital of Culture title together with Stavanger, Norway, in 2008. Several areas of Liverpool city centre were granted World Heritage Site status by UNESCO in 2004. The Liverpool Maritime Mercantile City includes the Pier Head, Albert Dock, and William Brown Street. Tourism forms a significant part of the city's economy. Labelled the "World Capital City of Pop" by Guinness World Records, the popularity of The Beatles and other groups from the Merseybeat era and later contributes to Liverpool's status as a tourist destination. Liverpool is also the home of two Premier League football clubs, Liverpool and Everton, matches between the two being known as the Merseyside derby. The world-famous Grand National horse race takes place annually at Aintree Racecourse on the outskirts of the city.
Car parking at Liverpool Port
Parking close to Liverpool Cruise Terminal couldn't be easier. There are a number of park and stay offers available to passengers embarking on cruises from Liverpool. The nearest multi-storey car park for both long stay and drop of car parking is Princes Dock MSCP.
Cruise & Passenger Services – Cruise Parking CPS Liverpool
Liverpool Cruise Terminal is fast earning a reputation as one of the most desirable cruise destinations in Europe. Since opening in 2007, more than 126 cruise ships have called into Liverpool bringing over 250,000 passengers and crew.