The port of Tyne – Newcastle International Cruise Terminal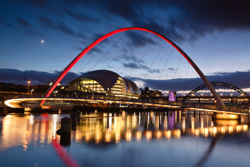 As the North East's regional gateway, there are over 625,000 cruise and passengers passing through the Port of Tyne every year. The Port of Tyne (Newcastle International Cruise Terminal) offers passengers from the north of England a great alternative to the southern UK ports of Dover Harwich & Southampton. It has a self service restaurant and small shop selling publications and essential travel items. Nearby there is also a 'Factory Outlet' type shopping centre with a hotel and eateries including a Premier Inn and Brewers Fayre restaurant.
With a long established history of short-sea mini cruises to Amsterdam the Port has had a passenger service operating from the Tyne for over 100 years. Welcoming around 30 cruise ships each year with superb facilities, vessels of over 300m in length and up to 10m in draft can be easily accommodated at Northumbrian Quay, the Port's purpose-built cruise berth which is capable of accommodating 95% of the global fleet of cruise ships and ideally placed to handle all cruise calls. While vessels in excess of 215m can also be accommodated at Whitehill Point the Port's second cruise ship berth.
Newcastle International Passenger Cruise Terminal (Port of Tyne)
The cruise terminal itself is located at North Shields (Tyne & Wear) and comprises four cruise berths which are adjacent to Royal Quays Marina. The cruise terminal offers easy road access and is just 8 miles from the centre of Newcastle.  Newcastle International Airport lies 15 miles to the north of the Cruise Terminal and passengers can be there in 30 minutes. Newcastle is well connected with the rest of the UK by the A1(M) (north/south) and A69 (east/west). Newcastle's Central Station is nine miles or 20 minutes from the Cruise Terminal, with intercity services serving Edinburgh, York and London. Hourly services operate across the Pennines to the UK's west coast and Lake District.
Newcastle Car parking If you are going to get to the Port of Tyne' International Passenger Terminal by road, follow the A1 towards Morpeth from Newcastle City Center, then the A19 towards the Tyne Tunnel. On approach to the tunnel,[…]