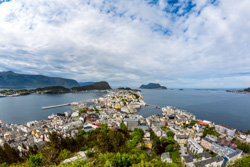 A trip to Alesund, the "Adventure Capital of the Fjords," will reveal why it was voted Norway's Most Beautiful City. Alesund, a city of 45,000 people located on three islands between two azure fjords, is a major port for the export of both dried and fresh fish to international markets. Geirangerfjord, a world heritage site, is easily accessible via the Coastal Steamer.
Alesund attractions
In order to see all that Alesund has to offer, be sure to pick up a copy of the city's official walking guide booklet from the information desk. Some of the city's most impressive structures may be found in and around Brosundet, specifically in the Kongens Gate, Brunholmen, and Kirkegata neighborhoods. In less than twenty minutes, you may walk from end to end, but watch your step on the cobblestone streets!
Art Nouveau style
On the 23rd of January, 1904, a devastating fire forced more than 10,000 people to flee their homes. Like a phoenix from the ashes, a new town sprang up, this one built in the distinct Art Nouveau style, characterized by its incorporation of organic forms and curving lines. This is mirrored in the architecture of Alesund, which often features floral and other curvy designs. The residences were created by young Norwegian architects influenced by both Norwegian nationalism and the popular architectural style of the time, known as Jugendstil or Art Nouveau in English.
Aksla viewpoint
Aksla, a mountain with a great view of the city, is worth a trip. From the Town Park, it's a 4-minute walk up 418 steps, or you may take the hop-on, hop-off bus or the tourist train that toodles around town. Views of the stunning Sunnmore Alps, the picturesque town center, and the surrounding archipelago may be seen from here.
Fjords, valleys, and breathtaking mountain ranges have all been sculpted by glaciers whose paths have shifted over time. The various tributaries of the Hjorundfjord Glacier are responsible for the formation of the Sunnmore Alps. The Sunnmore Alps are unique among mountain ranges due to the majesty of their mountains and the uniqueness of their alpine rock formations.