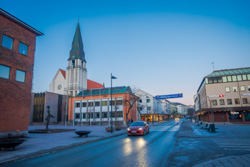 Molde is a city in Molde Municipality in More og Romsdal county, located on the north side of the vast Moldefjord. The municipality sits on the Romsdal Peninsula, which is surrounded by the Fannefjord and Moldefjord. The city is situated on the Romsdalsfjord's northern side.
Molde has a variety of educational institutions and cultural activities, including an international literature festival (the Bjornson Festival) and the well-known Molde International Jazz Festival. The annual International Jazz Festival, held in July, is Europe's oldest jazz festival, attracting tourists from around the continent. Football is another plausible reason, as Molde is home to one of Norway's greatest teams, Molde FK.
Molde is linked by the Atlantic Road to Kristiansund, one of Norway's most distinctive towns, with its colorful homes surrounding the tiny bay. Molde and Kristiansund are well located for exploring two of Norway's most scenic driving routes, Trollstigen and Atlanterhavsveien, or the Atlantic Road.