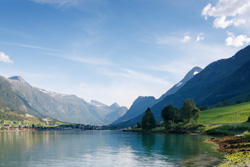 The Nordfjord is a well-known part of Norway's western coast that provides excellent opportunities for outdoor recreation throughout the year. Near the Geirangerfjord and the Sognefjord, in the northern portion of Sogn og Fjordane County, is where you'll find the Nordfjord.
Distance-wise, from its mouth on the island of Husevagoy to its source in the village of Loen, the Nordfjord is the sixth-longest in Norway. This area extends from the rocky coast of the Stadlandet peninsula to the Jostedalsbreen glacier, the largest continental glacier in Europe. Hornindalsvatnet is the deepest lake in Europe at 514 meters below sea level, and it is located in this area. The view from Briksdalsbreen, a glacier, is stunning. Alpine skiing is available in the Stryn region throughout the year, and there are several historic fishing villages lining the fjord that date back to the time of the Vikings.
Nordfjord, named for the fjord of the same name, is located in northern Sogn og Fjordane County; the fjord stretches for 106 kilometers, from Stad on the coast to Stryn in the county's easternmost corner. The municipalities of Stryn, Hornindal, Gloppen, Eid, Vagsoy, and Selje make up the region. The petroglyphs that date back to the Stone Age are the oldest artifacts that have been found in the area. Even though it was located in western Norway, the Vikings' stronghold of Nordfjord was a major regional powerhouse in its own right throughout the Viking Age. More information on the region's past can be found at the different visitor centers and museums. Agricultural, fishing, and industrial activities have historically fueled the region's economy, but the arts and culture have deep historical roots there as well. It is an extremely adaptable area, one that is well-known for being cutting-edge and innovative, and which is home to numerous industries and well-known companies like Moods of Norway. Vagsoy is the country's second-largest fishing hamlet, while Nordfjordeid is a town in Eid that boasts its very own opera theater.
Nordfjord is home to some of Norway's most stunning scenery, including glaciers, fjords, the sea, and mountains. Hornindalsvatnet, Europe's deepest lake, is located at the eastern end of Nordfjord, where glittering glaciers creep between tiny valleys. The fjord widens considerably in the middle, and the Hyenfjord, one of its arms, is a scenic sight in its own right. The fjord eventually leads out to the sea to the west. The coastal towns and their fishing culture are rich in history and tradition. Upon reaching the West Cape plateau, you will be staring out over the raging waters of Stad.