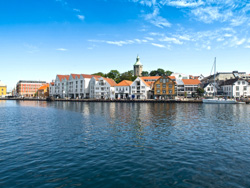 When visiting the Norwegian fjords, be sure to stop in Stavanger. Stavanger's city center is small and walkable, featuring historic dockside warehouses and picturesque 18th-century streets that rise from a lively harbor. With more than 170 white wooden homes, Old Stavanger boasts Europe's best preserved wooden house village.
Stavanger is a hub for academics and research because of its many colleges and universities. This may be seen in the city's diverse retail offerings and bustling nightlife. The fact that Stavanger and Sandnes were named European Capitals of Culture in 2008 is a testament to the abundance of cultural opportunities available to residents.
Stavanger attractions
You can visit the Norwegian Petroleum Museum, the Stavanger Museum of Fine Arts, and the Norwegian Canning Museum during your stroll through the city. Stavanger Cathedral, built in 1150, and the attractive old city with its predominantly tiny, white wooden buildings are also to be found here.
The natural world provides only a small portion of the city's entertainment; the rest comes from the many events and festivals held all year long. You won't have time to get bored in this city, with events like the Village Festival, which promotes healthy lifestyles and physical activity, the May Jazz Festival, held every May, and the International Chamber Music Festival, held every August. Every year at the end of July, the Gladmat Food Festival draws in the neighborhood of 250,000 people.
Prekestolen – Preacher's Pulpit
Pulpit Rock is a well-known landmark in Stavanger. A total of almost 250,000 individuals make the ascent to this cliff, which is located 600 meters above sea level. The Prekestol (Pulpit Rock), a flat-topped cliff that rises around 1,960 feet above the water, is without a doubt the most stunning landmark and most popular tourist destination in the Stavanger fjord. It's a two-hour drive from Stavanger via road and ferry. It's a precipitous drop, so caution is advised. Nonetheless, the sights are amazing for those who make the journey out here.
Lysefjord
Lysefjord is a dramatic gap in the mountains up to 1.25 miles wide and 23 miles long to the east of Stavanger, showing gorgeous bright green water. The limestone cliffs tower 3,300 feet above the fjord, making this the highest point. A visit to this stunning terrain is a must if you're in the region.