Jotunheimen National Park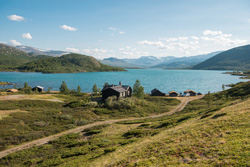 Jotunheimen National Park, is characterized by high mountains, glaciers and deep lakes. There are more than 200 mountain peaks rising above 2000 m (6560 ft) in Jotunheimen, and these are the highest mountains in Norway. The three highest peaks are Galdhopiggen (2,469 m), Glittertind (2,465 m) and Store Skagastolstind (2405 m). The western and most alpine part of Jotunheimen are in the municipalities of Luster and Ardal in Sognefjorden. Although not a part of the Jotunheimen National Park, the Jostedalsbreen, Norway's largest glacier, is also within easy reach for Skjolden. It is the meltwater from the glaciers in the area that colors the water of the Lusterfjord emerald green (the Lusterfjord is an arm of the Sognefjord). As you approach Skjolden you will be able to enjoy the lush landscape along the shores, where farms add to the idyllic landscape.
Naeroyfjord is the wildest and most beautiful of the arms of the Sognefjord. Cruise down the fjord through the incomparable setting of steep, snow-capped mountains, waterfalls and agricultural landscape, where you will see small farms clinging to the mountainsides.