Briksdal glacier – Briksdalsbreen.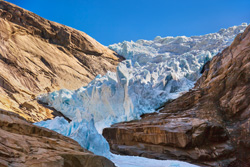 Briksdal glacier (Briksdalsbreen) is part of the Jostedalsbreen glacier, located in the Jostedalsbreen National Park. Once you get to it, the glacier and the national park are free to visit. It takes about 45 minutes from Olden by bus to get to the welcome center, from there you have the option to hike to get a closer look at the glacier or take a troll car for a fee which gets you within about a 10 minute hike.
You can experience the frozen cascade of the million year old Briksdal Glacier, which is the best-known of the Jostedal Glacier's many icy arms. The beautiful Lodalen Valley can be explored by boat on the ice-green, glassy Lovatn Lake and the wild Kjenndalen. Kjenndal Glacier is one of the largest arms of Jostedal Glacier. The visitor centre for Jostedalsbreen National Park is located in beautiful surroundings on the banks of Lake Stryn, and provides in-depth information about the glacier in the form of film and various exhibitions.