Hardangerfjord tourist attractions.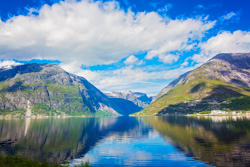 The Hardangerfjord starts at the Atlantic Ocean about 80 kilometres south of the city of Bergen and is considered one of the most beautiful areas in Norway. Two national parks, two national tourist routes, fjords, waterfalls and glaciers await you.
Hardangerfjord heads in a northeasterly direction between the island of Bømlo and the mainland. Hardangerfjord passes by the larger islands of Stord, Tysnesøya, and Varaldsøy on the north/west side and the Folgefonna peninsula on the south/east side. Once it is surrounded by the mainland, it begins to branch off into smaller fjords that reach inwards towards the grand Hardangervidda mountain plateau. The longest branch of the Hardangerfjord is Sørfjorden which cuts south about 50 kilometres from the main fjord. Its maximum depth is more than 860 metres just outside the village of Norheimsund in the middle of the fjord. There are many beautiful corners, although our picks would take in Eidfjord, Ulvik and Utne, while Folgefonna National Park offers glacier walks and top-level hiking.
You can take a range of walks and hikes in Hardanger. The most famous is to Trolltunga (the Troll's tongue) (8-10 hours). Perhaps the most beautiful walk is from Kinsarvik and up Husedalen valley, which has four waterfalls. For those wanting other challenges there are glaciers to explore, kayaking, via ferrata routes and great cycling routes too.
Top things to do and see in The Hardangerfjord region
Hiking to trolltunga ("The troll's tounge")
Go on a fjord cruise
Glacier walking on the Folgefonna Glacier
Hardanger and Hardangervidda National Tourist Routes
Vøringsfossen Waterfall
The Barony in Rosendal