Kirkenes tourist attractions.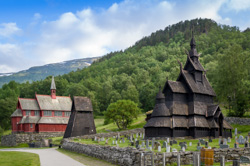 Kirkenes is a town in Sør-Varanger Municipality in Finnmark county, in the far northeastern part of Norway, close to the Russian border. The town lies on a peninsula along the Bøkfjorden, an arm of the large Varangerfjorden, which is a vast bay connected to the Barents Sea near the Russian–Norwegian border. The main church for Kirkenes is Kirkenes Church, located in the Haganes area of the town. The town is situated about 400 kilometres (250 mi) north of the Arctic Circle. Kirkenes is one end of the route of the Hurtigruten, which cruises daily up and down the Norway coast to and from Bergen.
The midnight sun shines from May 17 to July 21. The corresponding winter darkness extends from November 21 to January 21. Despite its location at the coast, Kirkenes exhibits a more continental subarctic climate than further west along the Northern Norwegian coast.
The majority of the inhabitants of Kirkenes are of a Norwegian background, and a minority is Sami. Others are originally from Finland, either members of the Kven population or of a newer influx of more or less recent Finnish immigrants.
Kirkenes Snowhotel
One of the most famous attractions is the Kirkenes Snowhotel, a hotel built from scratch every year, which is open between December and April. Even though the temperature inside is a constant minus four degrees Celsius, the beds are warm and comfortable with reindeer hide. Among the most popular summer activities are boat trips, hiking, diving, fishing, hunting, climbing – and bird watching.