Kjøllefjord tourist attractions.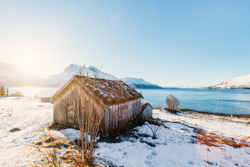 Kjøllefjord, a small but vibrant community is the administrative centre of Lebesby Municipality in Finnmark county, Norway. The village is located on the northwestern part of the Nordkinn Peninsula, at the head of the fjord, with an excellent view toward the ocean and the Finnkirka rock formation. Finnkirka is located on the west side of Nordkinnhalvøya and is a majestic and weathered sea cliff as the shape resembles a church. It is believed to have once been an ancient Sami sacrificial site, and is still used as a landmark for seafarers.
Kjøllefjord is a cultural hotspot, with numerous festivals. Every summer there is the ChristFestival in late June, a small music festival named after and a tribute to blues artist Christian (Kris) Lyngedal who was from Kjøllefjord. It is also home to Foldalbruket , an old fisherman's depot converted to an inn and museum, and the Christensen Gallery , specialising in artwork from the Barents Region.
One of the most popular way of getting here is by Hurtigruten. They call at ports all the way from Bergen up to Kirkenes and back and they do this every day of the year. So you can get on the ship in one port and enjoy the voyage until you get to Kjøllefjord. On the voyage you will get some unique experiences, you will see how the Norwegian culture changes the further north or south you go.