Kristiansund N. tourist attractions.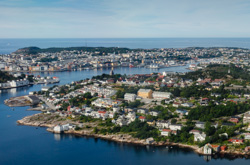 Kristiansund is a city and municipality on the western coast of Norway in the Nordmøre district of Møre og Romsdal county. The town is postally known as Kristiansund N. (for Nord, "North"), to distinguish it from the similarly spelled town of Kristiansand, in southern Norway. The contrasts in scenery and landscape make the Northwest region, the corner of Fjord Norway, an ideal base for a number of outdoor pursuits. In summer the mountains invite you to go hiking along marked paths in lush and green surroundings, and in winter you can go skiing with the northern lights dancing above your head.
The Atlantic Road connects Molde with Kristiansund, which is one of Norway's most distinctive towns, with its colourful houses surrounding the intimate harbour. It is believed that some of the very first Norwegians settled in what is now Kristiansund as the area was ice-free in the wake of the last ice age. Kristiansund is built on four main islands (known as "lands" by the locals), namely Nordlandet, Innlandet, Kirkelandet/Gomalandet and Frei that are connected by a series of bridges. The city center is located at Kirkelandet and the surrounding islands form a natural harbor protecting it from the harsh whether conditions of the Norwegian Sea. Kristiansund has a rich cultural life, with an opera that puts up more than 100 performances annually, as well as the Nordic Light International Festival of Photography.