Leknes tourist attractions.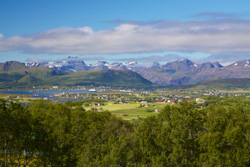 Located in the Lofoten Islands, Leknes is known as the trading and shopping center of the islands and can cater to a variety of interests. The 2.37-square-kilometre town has a population of 3,176. The population density of the town is 1,340 inhabitants per square kilometre. The natural surroundings of the town are regarded to be among the most stunning in Norway, with mountains, peaks, cliffs and white sandy beaches. Climbers, cyclers and other outdoor enthusiasts flock to the Lofoten Islands to partake of this dazzling display of nature.
Leknes is situated in the geographical middle of the Lofoten archipelago on the island of Vestvågøya. Leknes is also the administrative centre of the municipality of Vestvågøy. It is approximately 68 kilometres west of the town of Svolvær and 65 kilometres east of the village of Å in Moskenes. The town's harbour Leknes Havn is one of Norway's most important and visited harbours for cruise ships. The old school in the Fygle neighborhood has been converted into a museum. Hol Church is located on the eastern edge of the town. Leknes is a "twin town" with nearby village of Gravdal, where one branch of the Nordland Hospital is located. Gravdal is located about 4 kilometres southwest of Leknes. In Leknes, the sun (midnight sun) is above the horizon from May 26 to July 17, and in winter the sun does not rise from December 9 to January 4.