Lysefjorden tourist attractions.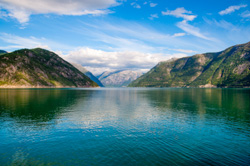 Lysefjorden (Lysefjord) is a fjord located in Forsand in Ryfylke in south-western Norway. The Lysefjorden is located in close proximity to the oil capital of Norway Stavanger. It is the nearest fjord to the rest of Europe. The Lysefjorden is carved out and shaped by glaciers during the ice ages. In this wild and brutal mountain people have scratched onto the hills and mountains for thousands of years.
Lysefjorden is one of the pearls of Fjord Norway – and the most southerly "big fjord" in Norway, making it accessible to more people. You can take a sightseeing boat from the main harbour in Stavanger. You can hike above it to Pulpit Rock and Kjerag, or drive beside part of it, but to really experience it you should take a boat along the fjord. The world's longest wooden staircase with 4444 steps in Flørli is now sailing up as a major tourist attraction, and if you are really fit you should test your strength climbing these stair. Are you really fit you can walk around the whole fjord along the Stavanger Tourist Board trails "Lysefjorden around." The center for extreme sports you'll find at the end of the fjord. The municipal center Forsand and the ferry point at Oanes is located at the entrance to the Lysefjorden.
Hengjanefossen Waterfall
Sightseeing boats often stop on the fjord to savour the view of Hengjanefossen – unless, of course, their captain chooses to sail right up to the waterfall. The 400-metre high waterfall can also be experienced on a mountain walk along the northern shore of the Lysefjorden.
Preikestolen (The Pulpit Rock)
The most famous tourist attraction in Ryfylke, towers an impressive 604 metres over the Lysefjorden. This flat mountain plateau, approximately 600 square metres, was most likely formed with the melting frost 10,000 years ago.
Kjerag Mountain
At 1,084 metres above the fjord, Kjerag towers above the other peaks along the Lysefjorden. It has become increasingly popular to walk up the path to the Kjerag Plateau. Most people are happy just to enjoy the view of the Lysefjorden from the plateau itself, but for some hikers, the climax of the excursion is to be photographed on the Kjeragbolten, a round rock wedged solidly in a mountain crevice.