Nordfjord tourist attractions.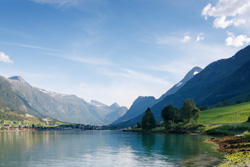 The Nordfjord is one of the famous fjords on the west coast of Norway, and offer great adventures year round. The Nordfjord is located in the destination of Stryn and Nordfjord, in the northern part of the county of Sogn og Fjordane, not far from the Geirangerfjord and the Sognefjord.
The Nordfjord is the sixth longest in Norway stretching 106 kilometres from the island of Husevågøy at the mouth to the village of Loen at the other end. The region encompasses the rough coastline of the Stadlandet peninsula to the Jostedalsbreen glacier, Europe's largest mainland glacier. The region also includes the lake Hornindalsvatnet, Europe's deepest lake at 514 metres below sea level. The glacier Briksdalsbreen is particularly scenic. The Stryn area provides year-round alpine skiing, and there are numerous old fishing communities along the fjord going back to pre-Viking times.
As the name suggests, Nordfjord lies in the northern part of the county of Sogn og Fjordane, and the fjord with the same name extends 106 km from Stad on the coast to Stryn to the east. The region consists of Stryn, Hornindal, Gloppen, Eid, Vågsøy and Selje. The oldest remains in the area are of people from the Stone Age, and you can still see petroglyphs from this time. Nordfjord was also a strong power base for the Vikings in western Norway during the Viking Age. At the various museums and visitor centres you can learn more about the history of the area. The region has traditionally been dominated by agriculture, fishing and industry but also has strong roots in the crafts and culture. It is a very versatile region, one renowned for being modern and innovative, with a wide range of industries and home to major brands such as Moods of Norway. Vågsøy is the second largest fishing community in the country and in Eid you will find the town of Nordfjordeid, with its very own opera house.
The glaciers, fjords, sea and mountains in Nordfjord are some of the most beautiful Norwegian nature has to offer. At the eastern end of Nordfjord, glaciers glitter as they sneak between narrow valleys, and it is here you will find Europe's deepest lake, Hornindalsvatnet. In mid-Nordfjord the fjord is much wider though one of its arms, the Hyenfjord, is rather dramatic. Further out to the west the fjord opens out to the sea. The coastal culture is really quite unique and the fishing villages abound with stories of bygone days. When you reach the precipitous West Cape plateau, you'll find yourself standing overlooking the mighty wild seas of Stad.
Top things to do and see in the Nordfjord region:
Fjord RIB rafting
The Jostedalsbreen Glacier
The Briksdalsbreen Glacier
Summer skiing at Stryn Summer Ski Centre
The West Cape
The Lodalen Valley and Kjenndalsbreen