The Romsdalsfjord tourist attractions.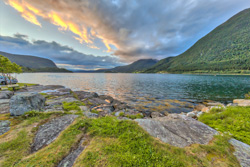 Romsdalsfjorden is the ninth longest fjord in Norway. It is 88 kilometres long and located in the Romsdal district of Møre og Romsdal county. Romsdalsfjord flows through the municipalities of Midsund, Haram, Vestnes, Molde, Nesset, and Rauma. The deepest point in the fjord is just southwest of the town of Molde, where it is 550 metres deep. The Romsdalsfjord devides into three branches; Fannefjord, Langfjord and Romsdalsfjor.
Romsdalsfjord hosts numbers of small coastal towns with Norwegian characteristic. If you would like to discover Norway this might be the best route to choose. You can reach small and tranquillity coves where you cannot reach by wheels; you can enjoy cosy fishing villages and feel the wilderness of nature. Experience its beautiful coastlines, reefs and snowy mountains in one day. The distance being so short between the mountains to the coast makes for a great day packed with remarkable scenery and activities.
Swimming in the Romsdalsfjord
The Romsdalsfjord does not always have Mediterranien temperatures in the water, but during a warm summer day it can be more than 20 degrees Celcius in the water. There's nice swimming and diving possibilities at several places in Romsdalsfjord, the most popular are beside the sand-pit in Veblungsnes, Kammen in Åndalsnes and Saltkjelsneset Camping in Eidsbygda. From late may to beginning of july there are summerski possibilities at Trollstigen, Juratind and other mountains in Romsdalen. After a day skiing it can be refreshing with a swim in the Romsdalsfjord. You don't need many minutes by car from the mountains to the fjord.
Kayaking in the Romsdalsfjord
Sea kayaking in the Romsdalsfjord is a adventure with many possibilities. In the innermost part of Romsdalsfjord there are narrow parts with surrounding steep and high mountains, further out we have small isles and more open areas. Outside Molde we have the rugged coastline with it's thousands of isle's. If you start paddling from Isfjorden, you can actually reach the coastline in a day or two.
Fishing in the Romsdalsfjord
Fishing trips in Romsdalsfjord are always popular if the riverfishing is bad. A boat trip on the fjord is a adventure itself, and sometimes the fishing can be very good. If the weather is nice, nothing is better than relaxing in a quiet fjord with shrimps and something to drink. Crawfish catching in Isfjorden is another possibility. The fjord between Isfjorden and Åndalsnes is not more than 40 meter deep. The crawfish pots lies there for 2-3 days, and the record is more than 30 crawfish in a total of 7 pots.