Skarsvåg tourist attractions.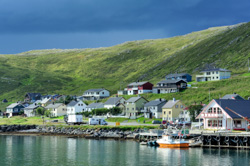 Skarsvåg is the northernmost fishing village in the world in Nordkapp Municipality in Finnmark county, Norway. The village lies along the northern coast of the island of Magerøya. The local fishing fleet primarily fishes for cod in the waters north of Magerøya. Meet some of these local fishermen and hear about their everyday life in the Arctic, the treasures of the Barents Sea and the culture of the north. There are about 60 residents in Skarsvåg and it is located about 14 kilometres (8.7 mi) from the famous North Cape. Skarsvåg Church is located in the village.
Skarsvåg tourist attractions
Hiking to Kirkeporten
Kirkeporten means 'Churchgate'. This rock formation is a geological wonder; a fissure several metres wide in a cliff overhang shaped like a big gate. Walking the 2,5 km from Skarsvåg to Kirkeporten takes 20-25 minutes. It's a nice easy walk for everyone. In the summer nights shines the midnight sun through the gate of the rock between midnight and two in the morning, impressive.
The North Cape and Midnight Sun The North Cape is a 307 meters (1,000 ft) high cliff which is generally referred to as the northernmost point of Europe located on the northern coast of the island of Magerøya in Western[…]