Svolvær tourist attractions.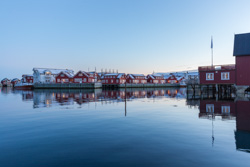 The most famous symbol of Lofoten and Svolvær, Svolværgeita, is a favourite spot for mountain climbers in summer. Climbers from all over the world come here to jump between the two horns of the peak. One of the highlights during the winter is the annual cod fishing festival.
Svolvær is the administrative centre of Vågan Municipality in Nordland County, Norway. It is located on the island of Austvågøya in the Lofoten archipelago. The 2.33-square-kilometre town has a population of 4,487. Svolvær's historical significance as an important fishing village allowed the town to be granted town status on 1 July 1918 when the new town of Svolvær was separated from the municipality of Vågan to become its own municipality. Initially, the new municipality had 2,429 residents.
In the capital of Lofoten, everything revolves around Norway's speciality: fish. In this authentic town, the wooden drying racks are lined up next to one another, and the wharfs, warehouses and industrial buildings lend the area an extraordinary atmosphere. You will find the same ambiance in Magic Ice, a bar and gallery in one: here, sculptures and installations reflect the connections between human beings and nature.
A worthwhile diversion is a walk to the island of Svinøya. Walk down the main road (the water should be on your right) until you see a long, arching bridge on your right. Turn right and cross the bridge. On the island, there's a small store, some "Rorbu" fishermen's cabins (you can stay in one of them if you want), and an art museum. You'll also get some excellent views of Svolvær, the Svolvær Geita, the sea, and the surrounding islands. Walking time is roughly 20-30 minutes from the town center.