What are the Northern Lights?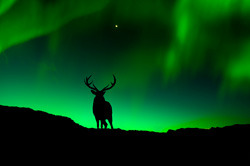 The Northern Lights (Aurora Borealis) are born on the Sun. Electrically charged particles are catapulted off the surface of the Sun in the aftermath of powerful solar storms. Some of these particles travel towards Earth. When they reach the planet, they are conducted along the protective magnetic fields towards the magnetic North and South Poles. In a ring-shaped pattern around the magnetic poles, the particles encounter the upper layers of the atmosphere. In a process identical to the one that occurs inside a fluorescent light, energy is released as light that we can observe from the Earth. Most Northern Lights take place at a height of around 100 km above the Earth's surface.
The Northern Lights, as the name suggests, are especially related to the polar regions. They occur most frequently in a belt of radius 2500 km centered on the magnetic north pole. This so-called auroral zone extends over northern Scandinavia, Island, the southern tip of Greenland and continuing over northern Canada, Alaska and along the northern coast of Siberia. The coasts of the Norwegian counties of Troms and Finnmark lay where occurrence is greatest, making northern Norway, due to its ease of access and mild winter climate, an attractive destination for people interested in observing this atmospheric phenomenon.