11-day cruise to Gdansk, Klaipeda, Riga, Tallinn, Helsinki, Stockholm, Copenhagen and Karlskrona with MSC Cruises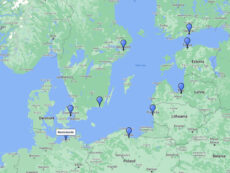 Cruising from: Warnemünde, Germany;
Departure Date: September 12, 2024;
Cruise Line: MSC Cruises;
Cruise Ship: MSC Poesia;
Duration: 11-day cruise;
Ports of Call: Warnemünde, Gdansk, Klaipeda, Riga, Tallinn, Helsinki, Stockholm, Copenhagen, Karlskrona, Warnemünde;
Discover the best of Baltic and Scandinavia with MSC Poesia
Day 0
Warnemunde is known as a majestic port for cruise ships, delicious Baltic Sea seafood, and a beautiful beach, all of which make for an unforgettable trip. With its tower stretching 37 meters into the air, the Warnemunde Lighthouse offers summertime[…]
Day 1
Gdańsk is a port city on the Baltic coast of Poland. As Poland's main northern port at the mouth of the Vistula River, Gdańsk is a key departure and arrival point for visitors and trade along the Baltic. especially to[…]
Day 2
The Lithuanian city of Klaipeda sits on the Dane River and Baltic Sea. It's the county seat of its namesake region, as well as the country's third-largest city and its only major port. When compared to Vilnius, the capital, and[…]
Day 3
Cruise to Riga, Latvia and explore the city's architectural gems including cathedrals and castles. Riga, Latvia's capital, is set on the Baltic Sea at the mouth of the River Daugava. It's considered a cultural center and is home to many[…]
Day 4
Tallinn, the capital of Estonia is something of a medieval theme park, with one of the best preserved Old Towns that you're ever likely to see. Centred around the iconic Toompea Hill and surrounded by the stunning City Walls –[…]
Day 5
There's something about Nordic cities that just seems to set them apart from most other metropolises, with the town planners in the northern reaches of Europe having nailed the art of designing major capitals that are in perfect harmony with[…]
Day 6
Stockholm, sometimes called the "Capital of Scandinavia," was established on the island of Gamla Stan and has served as Sweden's capital for the better part of seven centuries. The city's location on an archipelago, with its chain consisting of over[…]
Day 7
Stockholm, sometimes called the "Capital of Scandinavia," was established on the island of Gamla Stan and has served as Sweden's capital for the better part of seven centuries. The city's location on an archipelago, with its chain consisting of over[…]
Day 8 – At Sea cruising
Experience the relaxed ambience onboard MSC Poesia attentive service from a friendly staff that knows what hospitality means, you'll find your MSC Poesia ship truly is your home away from home.
Day 9
Copenhagen is famed for more than just its beautiful waterfront; the city is also home to Stroget, a pedestrian promenade that stretches from Town Hall Square to Kongens Nytorv and is known the world over. An variety of restaurants, cafes,[…]
Day 10
Karlskrona, Sweden
Embarking on a cruise to Karlskrona introduces travelers to Sweden's naval heart, a city dotted with historic shipyards and maritime museums. Set amidst a stunning archipelago, Karlskrona's UNESCO World Heritage status celebrates its rich maritime history and Baroque architecture, making it a captivating port of call.
Day 11
Warnemunde is known as a majestic port for cruise ships, delicious Baltic Sea seafood, and a beautiful beach, all of which make for an unforgettable trip. With its tower stretching 37 meters into the air, the Warnemunde Lighthouse offers summertime[…]
---
Sail away from Warnemünde and prepare to be dazzled by the riches of nature and culture as you travel through Baltic and Scandinavia on this wonderful voyage aboard MSC Poesia. Visit Gdansk, Klaipeda, Riga, Tallinn, Helsinki, Stockholm, Copenhagen and Karlskrona with MSC Cruises. MSC Poesia leaving Warnemünde, Germany for 11 nights from September 12, 2024.