7-day cruise to Warnemunde, Bergen, Eidfjord, Kristiansand and Oslo with MSC Cruises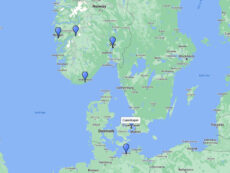 Cruising from: Copenhagen, Denmark;
Departure Date: July 20, 2024;
Cruise Line: MSC Cruises;
Cruise Ship: MSC Poesia;
Duration: 7-day cruise;
Ports of Call: Copenhagen, Warnemunde, Bergen, Eidfjord, Kristiansand, Oslo, Copenhagen;
Discover the best of Norway, Denmark and Germany on this Norwegian Fjords cruise with MSC Poesia
Day 0
Copenhagen is famed for more than just its beautiful waterfront; the city is also home to Stroget, a pedestrian promenade that stretches from Town Hall Square to Kongens Nytorv and is known the world over. An variety of restaurants, cafes,[…]
Day 2
Warnemunde, Germany
The Nordfjord is a well-known part of Norway's western coast that provides excellent opportunities for outdoor recreation throughout the year. Near the Geirangerfjord and the Sognefjord, in the northern portion of Sogn og Fjordane County, is where you'll find the[…]
Day 1 – At Sea cruising
Experience the relaxed ambience onboard MSC Poesia attentive service from a friendly staff that knows what hospitality means, you'll find your MSC Poesia ship truly is your home away from home.
Day 3
Bergen is located between the longest fjord in Norway, the Sognefjord, and the lovely Hardangerfjord in the south. It is the best place in Norway to gain access to the fjords, making it one of the country's top tourist destinations.[…]
Day 4
Eidfjord is a municipality in the county of Hordaland, located at the end of Norway's second-longest fjord, the Hardangerfjord. Eidfjord is located in the heart of a region along the RV 7 route, which connects Oslo and Bergen and passes[…]
Day 5
Kristiansand is one of the largest cruise ship ports in Norway, and the port sees a significant number of cruise ship arrivals throughout the summer months. The city center, the boardwalk, the bus terminal, the ferry terminal, and the train[…]
Day 6
Oslo, Norway's capital, is located between the Oslofjord and the woodlands. Oslofjord which is actually a lake, not a fjord, is one of Europe's most sparsely populated capital cities, despite being one of the largest in terms of population. This[…]
Day 7
Copenhagen is famed for more than just its beautiful waterfront; the city is also home to Stroget, a pedestrian promenade that stretches from Town Hall Square to Kongens Nytorv and is known the world over. An variety of restaurants, cafes,[…]
---
Sail away from Copenhagen and prepare to be dazzled by the riches of nature and culture as you travel through Denmark, Germany, Norway and Norwegian Fjords on this wonderful voyage to Warnemunde, Bergen, Eidfjord, Kristiansand and Oslo aboard MSC Poesia. MSC Poesia leaving Copenhagen, Denmark for 7 nights from July 20, 2024.