Gdansk tourist attractions.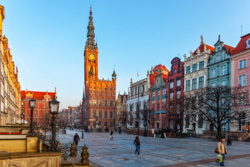 Gdańsk is a port city on the Baltic coast of Poland. As Poland's main northern port at the mouth of the Vistula River, Gdańsk is a key departure and arrival point for visitors and trade along the Baltic. especially to and from Scandinavia.
Gdańsk is a pearl of bourgeois architecture, boasting beautiful houses and a unique market. At the center of its Main Town, reconstructed after WWII, are the colorful facades of Long Market, now home to shops and restaurants. Look Neptune Fountain, a 17th-century symbol of the city topped by a bronze statue of the sea god. You can walk in the footsteps of the main character of Gunter Grass "The Tin Drum" or look at the stars of Hevelius. These are also perfectly preserved fortifications, ranked among the biggest in Europe, and interesting harbour architecture.