Tallinn tourist attractions.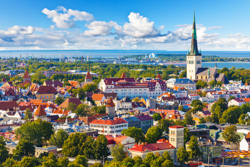 Tallinn, the capital of Estonia is something of a medieval theme park, with one of the best preserved Old Towns that you're ever likely to see. Centred around the iconic Toompea Hill and surrounded by the stunning City Walls – parts of which can even be climbed – it really is the closest you're ever likely to get to genuinely stepping back in time, and huge amounts of effort have gone into preserving the look and feel of the place since it became a UNESCO World Heritage Site in 1997.
The capital of Estonia
Among the top landmarks to see in the Old Town itself are the likes of St Mary's Cathedral, which is the most ancient church in Tallinn, dating back to the 13th century, and the trendy shopping street of Viru, where merchants have been trading ever since medieval times.
Art lovers, meanwhile, should not miss the chance to visit the KUMU National Art Museum, which contains pieces that reflect some of the major themes from the past century or so of Estonian life, while the Seaplane Harbour is a wonderful place to head to if you want to learn more about the city's maritime connections.
If you're more interested in recent history, then you'll find loads of other fascinating sites that provide an intriguing insight into what life was like during the Soviet era. The Museum of Occupations is one such place, while the former KGB headquarters is also well worth seeing – even though visitors are not actually allowed to enter.