Newcastle upon Tyne tourist attractions.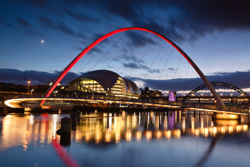 Newcastle was founded around 2,000 years ago as a Roman fort called Pons Aelius along Hadrian's Wall, a ruin of which still exists at Segedunum, a short walk from Wallsend Metro station. Newcastle has plenty to offer too with a heritage dating back to Roman times. Newcastle has close links to Hadrian's Wall and remnants of the stone barricade still survive around the city. The city developed into an important port and was at the centre of the Industrial Revolution during the 18th and 19th centuries. As heavy industry declined, Newcastle's fortunes took a dip.
Newcastle has now re-invented itself as a cultural centre and Science City, and is possibly one of the most vibrant cities in the north of England. Newcastle gained a whole new lease on life in the mid-1990s following the rebirth of the derelict downtown Quayside area. Spiffed up along the river banks with a host of trendy bars, restaurants and nightclubs, all set against a spectacular backdrop of several different, very eclectic bridges, the city has an unmistakable stance that renders it almost unique on mainland Britain.
The North East England
The North East is an area of outstanding natural beauty and home to beautiful coastlines, gardens, castles, cathedrals and the cradle of Christianity. The region is home to several UNESCO World Heritage sites, including Hadrian's Roman Wall and Durham City, as well as Alnwick Castle, known as the 'Windsor of the North', but most recognised for its role as Hogwarts in the Harry Potter films and most recently featured in the popular period drama Downton Abbey.
If you planing your cruise to the Baltic's, Fjord's or Scandinavia you can save almost a day's if you sailing from Newcastle.
The port of Tyne – Newcastle International Cruise Terminal As the North East's regional gateway, there are over 625,000 cruise and passengers passing through the Port of Tyne every year. The Port of Tyne (Newcastle International Cruise Terminal) offers passengers from[…]
Newcastle Car parking If you are going to get to the Port of Tyne' International Passenger Terminal by road, follow the A1 towards Morpeth from Newcastle City Center, then the A19 towards the Tyne Tunnel. On approach to the tunnel,[…]