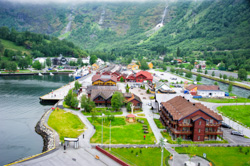 Flam, a town in the heart of Norway's fjord area, is home to some of the country's most visited landmarks. The municipality of Aurland includes the communities of Aurland, Gudvangen, and Undredal, as well as the little picturesque village of Flam, population 350. With a length of 204 kilometers and a maximum depth of 1,308 meters, the Sognefjord is the longest and deepest fjord in Norway; Flam is located near the mouth of its tributary, the Aurlandsfjord. It is the responsibility of the Aurland Harbour Authority to welcome cruise ships to four different ports, two of which are Flam and Aurland.
Flam attractions
Norwegian Fjords cruises depart from Flam and make their way to the picturesque town of Gudvangen in the narrow fjord, a UNESCO World Heritage site. The express boat to Bergen departs from Flam, passing through the enchanted Sognefjord and making stops in picturesque fjord towns including Leikanger, Balestrand, and Vik. After the Bergen Railway opened in 1909, Flam served as a hub for people, mail, and freight traveling on trains between Oslo and Bergen and on steamships on the fjord. Many people consider Flamsbana, also known as the Flam Railway, to be the most breathtaking and precipitous railway in the world.
Flamsbana – the Flam Railway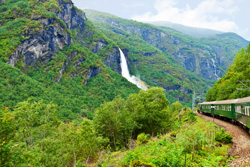 The Flamsbana train is a breathtaking sight in the Norwegian fjords. Try out the spectacular Flam Railway, which runs from the Bergen Railway's Myrdal mountain station to Flam on the Aurlandsfjord. The Flam Railway, with its 865-meter elevation change, holds the record for the world's steepest adhesion railway on standard-gauge tracks. While leaving, the train pauses at the Kjosfossen waterfall, where the singing and dancing Huldra arrives. Vatnahalsen is the last stop before the valley floor, where you can get off the train and have some coffee and waffles at the hotel of the same name. This goes through Kardalfarm, where you can have more refreshments and a herd of friendly mountain goats will pose for pictures. Keep going until you reach Berekvam station, where the train will pick you up and take you back to Flam.

The Flam Railway is often cited as "one of the world's most spectacular train trips." In fact, approximately 80% of the journey has a gradient of 5.5%, making it one of the world's steepest train lines on standard rails. The route passes the Rallar Road, high mountains, gorgeous waterfalls, and 20 tunnels, and there are so many stunning vistas along the way that many passengers report feeling as though they have taken numerous trips between the mountain and the fjord. You can go from sea level at Sognefjord in Flam to 867 meters above sea level at Myrdal mountain station on Hardangervidda in under one hour on the railway.