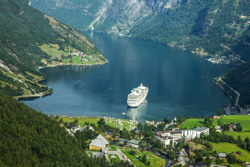 One of the most popular ways to see Norway is from the water, and the Geirangerfjord is a popular destination for cruise ships. Cruising the area known as the "jewel of the Norwegian fjords" will not leave you bored. Geirangerfjord is a deep blue fjord surrounded by snowy mountains, roaring waterfalls, and verdant landscapes. In addition to being the best-preserved UNESCO World Heritage Site, National Geographic has recognized the Geirangerfjord for its exceptional beauty. The natural beauty of the area is unquestionably its greatest selling point. A cruise through this remote region of the fjords is the ideal way to see its tiny fjord arms and steep mountains plunging into the deep blue ocean—a journey unlike any other. Geirangerfjord is home to crystal-clear seas, mystical mountains, towering waterfalls, and abandoned mountain farms.
From the Atlantic coast south of Alesund, a 15-kilometer-long arm of the Storfjord (Great Fjord), known as the Geirangerfjord, cuts in. Although it's one of the tiniest fjords in the area, the Geirangerfjord is widely regarded as one of the most beautiful. Its snakelike contour cuts deep into the interior, and it is characterized by a number of spectacular waterfalls. At each end, the villages of Hellesylt (to the west) and Geiranger (to the east) dot the landscape. There are several derelict farms lining the shores of the fjord. Skagefla, Knivsfla, and Blomberg are the three most frequented farms. While the others can only be seen from the fjord, Skagefla may be accessed on foot from Geiranger.
Hellesylt and Geiranger
Located at the far eastern end of Geirangerfjord, Geiranger is a small village and rural community. It attracts both domestic and international tourists, and hence has both large and small hotels. Geirangerfjord makes a steep curve to the north and becomes Sunnylvsfjord about west of the settlement of Hellesylt. Hellesylt may seem small and unremarkable, but the nearby Norangsdalen valley is breathtaking.
Geirangerfjord waterfalls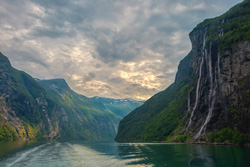 In addition to its other natural wonders, the Geirangerfjord is home to several breathtaking waterfalls. The Seven Sisters Waterfall is a must-see when in the Geirangerfjord. The mountain is flooded by the roar of seven waterfalls that plunge directly into the fjord below.
Another waterfall in the fjord is called Brudesloret (the bridal veil) because it cascades so gently over one rocky edge that, when backlit by the sun, it resembles a thin veil draped over the rocks.