Andalsnes tourist attractions.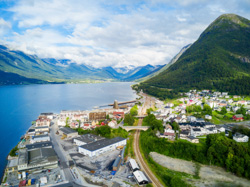 Cruise ships dock in the Andalsnes center, perfect for a great variety of independent exploration. Perfect for visiting some of Norway`s most spectacular destinations and dramatic sights in one day. Andalsnes is the Gateway to one of Norway's wildest and most beautiful and unspoiled regions. On your visit here you'll experience something completely genuin. Surrounded by tall mountains and situated on the Romsdalsfjord, Åndalsnes is often referred to as "The Alp town by the fjord".
The Alp town by the fjord
Andalsnes is small town surrounded by gorgeous fjords and mountains located at the end of the Rauma Scenic Railway from Dombas. The changing direction of glaciers has carved out fjords and valleys and created spectacular mountains ranges. The Sunnmøre Alps were shaped by Hjørundfjord Glacier and its many glacial arms. Majestic mountains and alpine rock formations distinguish the Sunnmøre Alps from other mountain areas. The mountains rise straight out from the water to heights of 1500 – 1700 metres.
The fjord town Åndalsnes is a great starting point for activities and excursions, from forest walks in the hilly terrain to short, steep walks to magnificent viewpoints. This city vaunts an exquisite setting with the snowed peaks behind and the Romsdalsfjord in front. It is also a great starting point for long mountain walks with views of the Romsdalsfjella mountain.
Rauma train line
A trip on Rauma Railway is a unique opportunity to experience one of the most spectacular scenic areas in Norway. Rauma Railway goes between Åndalsnes and Dombås with four daily departures all year, and the trip takes 1 hour and 40 minutes. Once aboard the train, just sit back and gaze out of the train's large windows and enjoy the journey through contrasting, wild and magnificent scenery. From your seat you can admire well-known attractions such as the Kyllingbru bridge, the Trollveggen cliff, the fantastic Rauma river and the Romsdalen valley.
Romsdalen Valley
The beautiful, emerald-green river Rauma will follow you right outside the train window for much of your trip. The river's character is constantly shifting – one moment flowing gently past small beaches of white sand before transforming into a wild torrent, cascading down rapids at breakneck speed. This is probably Norway's most beautiful and wildest stretch of railway.
Rauma Rock Festival
Andalsnes host one of the largest Rock Festivals in Central Norway, it is an annual event normally in August. The festival offers a weekend of varied pop/rock music, featuring everything from explosive rock 'n roll to mellower music, performed by both local and national well-known artists, with the mighty Romsdal alps as a backdrop.