14-day cruise to Eidfjord, Skjolden, Andalsnes, Trondheim, Hammerfest, Honningsvag, Bergen & Stavanger on board Rotterdam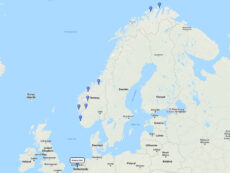 Cruising from: Amsterdam, Netherlands;
Departure Date: July 1, 2023;
Cruise Line: Holland America Line;
Cruise Ship: Rotterdam;
Duration: 14-day cruise;
Ports of Call: Amsterdam, Eidfjord, Skjolden, Andalsnes, Trondheim, Hammerfest, Honningsvag, Bergen, Stavanger, Amsterdam;
Discover the best of Norway & North Cape on this cruise with Holland America Line
Day 0

Day 1 – At Sea cruising
Aboard Rotterdam you will experience the best dining, entertainment and amenities at sea against a backdrop of unrivaled natural beauty.
Day 2

Day 3

Day 4

Day 5

Day 6 – At Sea cruising
There are plenty of daily activities on board Rotterdam to keep you busy. Rotterdam has everything a discerning cruiser could want, bars, sports venues and shops.
Day 7

Day 8

Day 9 – At Sea cruising
Experience the relaxed ambience onboard Rotterdam attentive service from a friendly staff that knows what hospitality means, you'll find your Rotterdam ship truly is your home away from home.
Day 10 – At Sea cruising
Cruising aboard Rotterdam elevates fun at sea to an art form. Rotterdam demonstrates a true mastery of the craft with an onboard collage of fun entertainment for you to enjoy.
Day 11

Day 112

Day 13 – At Sea cruising
Entertainment on Rotterdam will feature more to do onboard, with more time to do it.
Day 14

---
Sail away from Amsterdam and prepare to be dazzled by the riches of nature and culture as you travel through Norway on this wonderful voyage aboard Holland America Line's Rotterdam. Visit Eidfjord, Skjolden, Andalsnes, Trondheim, Hammerfest, Honningsvag, Bergen and Stavanger. MS Rotterdam leaving Amsterdam, Netherlands for 14 nights from July 1, 2023.